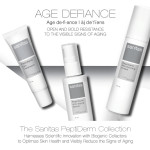 What are Peptides?
Peptides are proteins, chains of amino acids that help your skin build and maintain collagen and elastin.  They help stimulate your skins natural ability to synthesize hyaluronic acid development , peptides even help protect the skin from free radicals, pollution and ultraviolet rays.
Here's what all that means…
9 or so years ago when Sanitas developed the PeptiDerm Ani-aging Serum, the formulator said to me
"Nora, it's going to take those lines around your eyes away."
I thought,  Yikes!! I have lines around my eyes?
Well, I used it down to last drop of the first sample bottle.  My mother accused me of getting Botox.  Yah!!  I've been using it religiously ever since.
As time went on, Sanitas came out with the PeptiDerm Eye Treatment and the PeptiDerm Moisturizing Cream followed.  They work independently but are designed to enhance each other.  You will have  significant success layering all three.
Now here's where the real fun begins.  The PeptiDerm Eye Treatment is the most concentrated, 50% peptides.  Massage it in don't just pad it on.  Spot treat with  your serum, the fines lines on forehead and folds of the mouth.
Then a thin layer of PeptiDerm Moisturizing Cream, 40% peptides, is going to hold the matrix of your skin together.  The combination is poetic.
Trust me, it works.  Your skin will be youthful and resilient.
Let's enhance what you're doing at home with an Anti-aging Facial.  I have the 90% PeptiDerm in my arsenal of weapons.
See you soon!