Hope you're having a great summer.  
Here's my top 5 ways to nourish and protect your skin.
Hydrate, drink water, half your weight in ounces.  If you feel thirsty you are already dehydrated. 

Enjoy the sun.Wear Sanitas 

Solar Block

 or a sunscreen you love and feel comfortable with,and don't forget to reapply.  The Sun is your friend, don't let it burn you.
 Cleanse your face without stripping.  My fav during the day, Sanitas 

Therapeutic cleansing pads.

If you're not in a place to wash your face, these are the best.

Go easy on exfoliating when you're going to be in the sun.  

Treat yourself to a facial.
We have embraced the warm, the outdoors, the sunshine, but with that our skin suffers.  I personally have to make an effort to drink more water.  I fill a 32 ounce bottle with water and most days I drink two.  For my weight I should drink a little more than two, the rule is drink half your body weight in ounces.
Drinking the right amount of water will plump your skin, hydrate your skin and curb your appetite.
Whether it is Sanitas Solar Block or another brand make sure you look for on with Zinc and Titanium Dioxide.  Those two ingredients ensure you are getting a full spectrum block.  You still have to reapply if you're going to be in the sun all day.
If you can't get to a place to wash your face use Sanitas Skincare Therapeutic Cleansing Pads.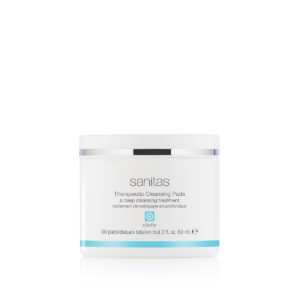 They are perfect to clean the dirt sweat and oils after you've worked out or gone hiking or maybe you're just hot and sweaty, here is the answer.
Every magazine and blog says to exfoliate, exfoliate, exfoliate.  I'm not saying not to but just back off.  Don't exfoliate every day and every night, once a week this time of year and not before you are about to be in the sun for any prolonged amount of time.
Finally, get a facial.
Everyone needs a facial!  What a facial will do is unclog the pores, dissolves the dead skin cells and encourage new skin to grow.  A facial will hydrate and stimulate your natural moisture factors, helping you skin to help itself.