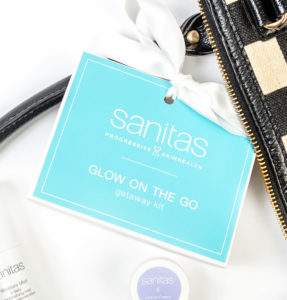 How do I get this cool gift?  Just come in for a facial, or purchase $100 of Sanitas online from The Healthy Skin Store  You'll receive a mini Moisture Mist, a mini Solar Block and a mini, Lemon Scrub.
I love this new wonderful gift Sanitas has provided for us.  I'm always happy with anything that includes Solar Block.  It's all travel sizes so you have it handy to reapply.
I pack Moisture Mist in my carry-on bag to rehydrate during long flights. Sometimes I even add a drop or two of my favorite essential oil (in my case a soothing blend of lavender and chamomile) to mask the "not always so pleasant" airplane smell!
I love using Lemon Cream Scrub when I travel because I can get a quick exfoliation on the go. For an even deeper flash exfoliation I add four drops of GlycoSolution 10%, and leave on during my shower. At the end of my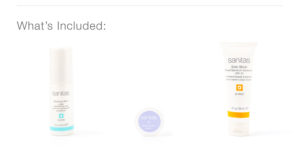 shower, I polish off the dead skin. Leaves my skin glowing without stripping it of moisture!
I love that Solar Block is non-toxic and that it provides total sun protection. This travel size is perfect for tossing in my backpack to ensure my skin is protected on long bike rides in the Colorado sun.