We all love the sun.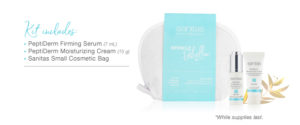 I'm in the sun right now, soaking it up, getting brown.  We need the sun.  Vitamin D is is made from cholesterol in your skin when it's exposed to the sun. That's why getting enough sunlight is very important for maintaining optimal vitamin D levels.  That's why we need to embrace the sun, but when we expose ourselves to too much sun the effects on our skin causes damage.
I can help!  This cool little kit contains Sanitas Skincare Wrinkle Rebellion Kit will get you skin up to speed.
Here is your at home facial.
1. CLEANSE – Cleanse thoroughly using Glycolic Citrus Cleanser.
3. EXFOLIATE – Mask with any of the following:
Rinse, and do extractions lightly, rub two fingers together and rub gently.
7. NOURISH – Mask with PeptiDerm Anti-aging Serum and ReVitaLize Mask. Apply 1 pump of PeptiDerm Anti-aging Serum and a layer of ReVitaLize Mask over the serum and allow the blend to remain on the skin up to 15 minutes.
Remove ReVitaLize Mask with a warm, moist towel or sponge.
9. MOISTURIZE – Moisturize with Moisture Mist, PeptiDerm Firming Serum and PeptiDerm Moisturizing Cream. Mist skin with Moisture Mist. In your palm, combine 1 to 2 pumps of PeptiDerm Firming Serum and a half-pea size of PeptiDerm Moisturizing Cream. Massage into face, neck and décolleté.
10. EYE TREATMENT – Gently pat a small amount of PeptiDerm Eye Treatment around the orbital bone using the pad of ring finger.
Do this facial at night, let the skin soak in the vitamins and peptides, your skin wants to receive them.
In the morning, Voila!!
…or come in see me.  This facial is the "Love Your Skin Facial"
See you soon!